No Resurrection for this Jesus!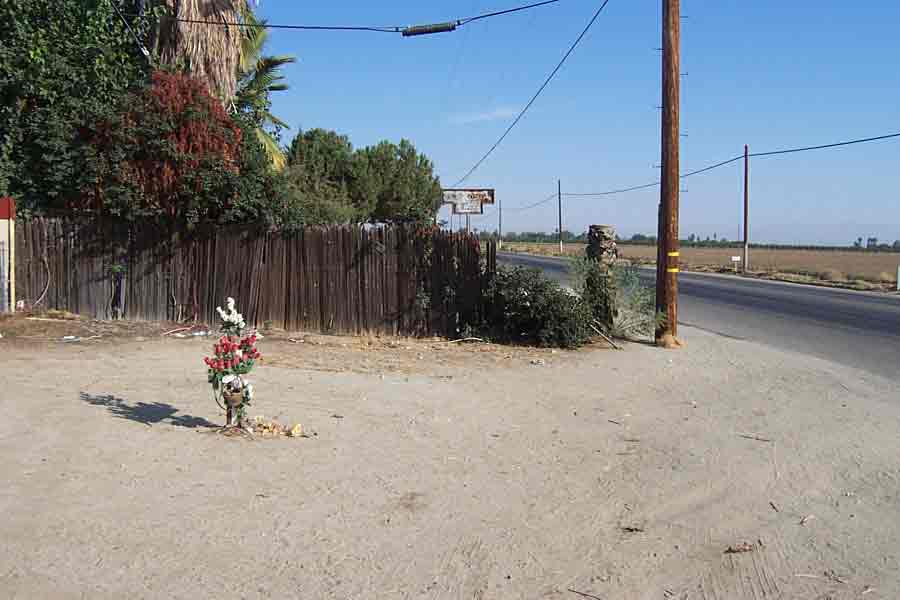 Road: Lamont Hwy (CA State Hwy 184), West side of road in small lot, 2 miles south of Lamont
Location: Lamont, California

Victim #1: Jesus Espinosa
Date of Accident: 2001

Inscription: "INRI
Jesus Espinosa 1966 2001"

Age: 35


Description: This road memorial features a small white cross, beautifully decorated with gorgeous bouquets of white and red roses (fake). The cross is in a small dirt lot alongside the roadway. Flowers and pieces of the car lie at the base. An Angel is attached to the cross. A bucket full of the doomed car's remains is hung over the cross. The victim's name and info is crudely painted with black paint.

Analysis: This cross is located on a lot in front of a small farm community of 10 or so houses. I imagine Jesus was on his way home affer a long, hard day in the fields, when some yahoo from this village turned onto Hwy. 184 without looking both ways. Poor Jesus got slammed into and run off the road. Soon, he was hanging with his namesake in Heaven...
More Images: Photo Two - Photo Three
or choose from these other fine websites presented by Fyoog State Records:

Return to White-Crosses Main Page