The Friends: Road Trip to Oblivion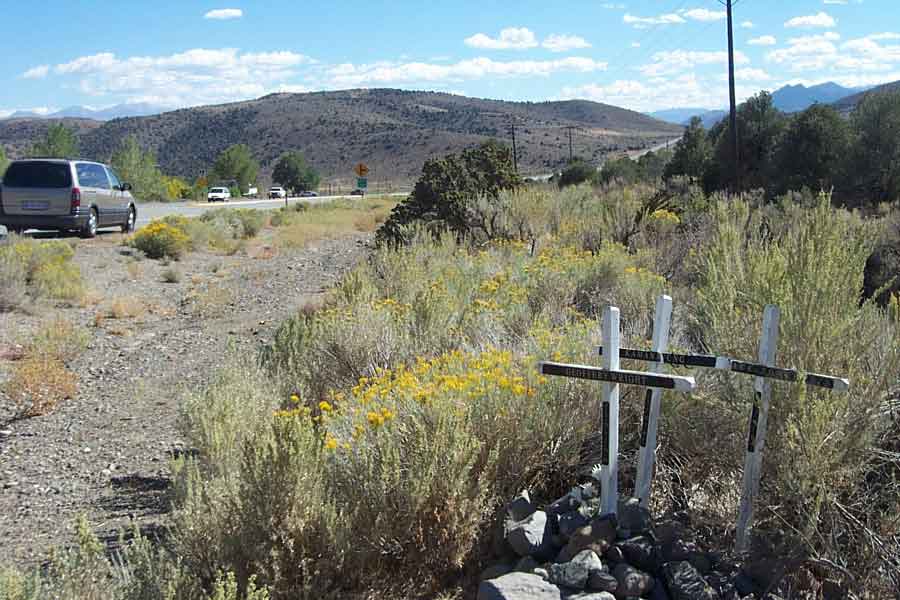 Road: Hwy 395 at Pen Rod Lane, 2 miles north of Lake Topaz and the California border (East Side of Road)
Location: Lake Topaz, Nevada

Victim #1: Geoffery Wright
Date of Accident: 3/19/95

Inscription: "Geoffery Wright

2/2/73

--/-/--

3/19/95"

Age: 22


Victim #2: Kamar Wong
Date of Accident: 3/19/95

Inscription: "Kamar Wong
3/19/95"

Age: ?

Victim #3: Jack Towle
Date of Accident: 3/19/95

Inscription: "Jack Towle
3/19/95"

Age: ?


Description: Three white crosses grouped together on the west side of the road. Each cross has a black embossed plastic marker with their names and death date on it. Lots of rocks are piled up at the base of the crosses, and white fake flowers lie in front. A large ditch is directly behind the crosses.

Analysis: Fatality #3 of Death Alley Nevada. Hey guys, what do you say we go up to Reno for a road trip during Spring break! That's probably how three young friends met their fate one March day. A drunk driver from a nearby trailer park probably ran them off the road and killed them. Their car careened into the ditch and burst into flames, forever ending whatever hopes and dreams these young men had. And you just know the drunk probably walked away without a scratch! Geoffery Wright's parents put up the memorial since his is the only birth date listed. Plus, his cross is up front. This triple cross monument makes a nice juxtaposition with the fake Jesus Christ trio of crosses you see every once in a while. Also, note the age of these markers: 8 years and counting! That is very old for white crosses.
More Images: Photo Two - Photo Three - Photo Four
or choose from these other fine websites presented by Fyoog State Records:

Return to White-Crosses Main Page