That's All, Folks!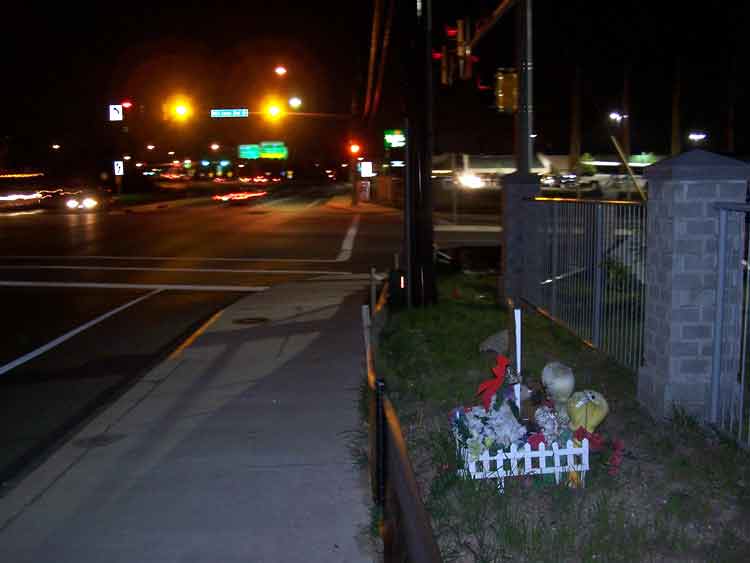 Road: NW Corner of Baltimore Ave. and Ikea Center Blvd.
Location: College Park, Maryland

Victim : Jerome
Date of Accident: 8/29/2004

Age: 26 (2/24/78 - 8/29/2004)


Inscription: "We love you, Jerome! Gone but not forgotten. We miss you. 2/24/78 - 8/29/2004" in kidnap-style cutout writing on paper around photo of the victim.


Description: This roadside memorial consists of a small green wooden cross surrounded by tons of fake flowers and stuffed animals. A poster board with the victim's photo and a message from friends hangs on the cross. The biggest stuffed animal: Tweety bird. All this is surrounded by a small white picket fence.


Analysis: I found this monument during a recent trip to Maryland. It was literally outside my hotel!! How's that for coincidence?! Anyway, poor old Jerome ... He was probably a college student at the nearby University of Maryland. Did he crash his car after a night of heavy drinking at a college party? Or was he simply driving home from school when some Ikea-shopping jackass ran the light and t-boned him? We may never know ...
More Images: Photo Two - Photo Three
or choose from these other fine websites presented by Fyoog State Records:

Return to White-Crosses Main Page