Great Scott, I'm Dead!!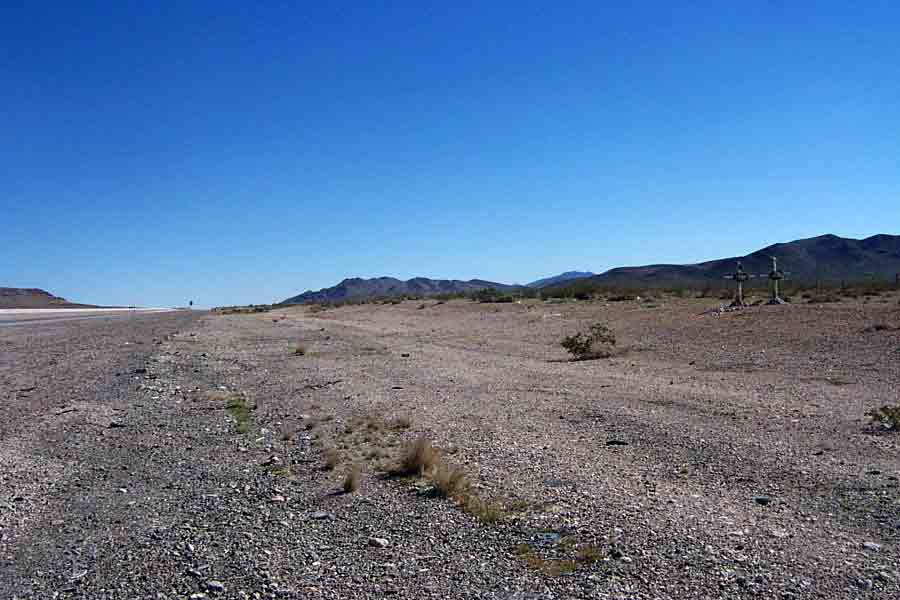 Road: 15 Fwy Northbound, 6 miles south of Jean
Location: Jean, NV

Victim #1: C. Scott
Age: ?

Victim #2: D. Scott
Age: ?

Date of Accident: January 13, ????

Inscription: "C. Scott D. Scott"

In rocks: "Jan 13"


Description: These two large white crosses testify to the danger of making the long, 5-hour trek from Los Angeles to Las Vegas. This heavily traveled road is well built and easy to drive, but its long stretches of open highway can easily lull a driver to sleep. Each cross has a wreath draped across its center and fake flowers on its top & base. A tumble of rocks prop up each cross. A large picture of Jesus lies in front of the crosses, and a face-down teddy bear lies on Jesus' countenance. "Jan 13" is spelled out in rocks near the crosses. Most interestingly, there is a long chalk line showing the direction of the accident! It's pretty cool - - the line ends at the crosses!


Analysis: Highway 15 to Las Vegas is a fairly easy road to drive. How, then could a married couple meet their Maker on this road? Two possibilities: booze or sleep. I guess it was probably the latter. If the accident was on the other side of the road, then it would certainly have been a case of drunk driving. Since the victims were driving towards Sin City, sleep probably overcome them. I love the chalk line showing where the accident occurred. One can imagine the car rolling and spinning until it finally comes to rest at the site of the white crosses. Yet again, Jesus makes another cameo appearance. The rocks spelling the death date are another unique touch. Overall, a damn creative tribute! Bravo!
More Images: Photo Two - Photo Three - Photo Four - Photo Five
or choose from these other fine websites presented by Fyoog State Records:

Return to White-Crosses Main Page